Charlotte Blom

of Selby, South Dakota, died on Tuesday, November 6, 2018
at the Good Samaritan Center in Selby at the age of 87
Charlotte Mae Gerdon was born January 31, 1931 on the family homestead south of Belvidere to Robert and Pearl E. (Voss) Gerdon. She grew up in Belvidere attending school through 11th grade and later receiving her GED from Philip High School of which she was very proud of.

She was united in marriage to Willis Blom on June 3, 1948 in Murdo, South Dakota, and to this union three children were born: Lloyd James in 1949, Colleen Mae in 1952, and Myrna Lee in 1956. The family moved to Philip in 1956, where Charlotte babysat and was a homemaker. Charlotte took a job as a cook at the Philip High School for several years as she loved to cook. In 1970 she began a housekeeping position at the Hans P. Peterson Memorial Hospital and Nursing Home. She finished her working career as a caregiver at the Silver Leaf Assisted Living Center in Philip.

Charlotte enjoyed cooking, baking, crocheting, gardening, helping Willis with the Haakon County Prairie Transportation Bus, time with her grandkids and family at the cabin on Sheridan Lake and their dancing trips at Canyon Lake Senior Center.

Survivors include one son Lloyd Blom (Diane) of Mobridge; two daughters, Colleen Taylor (Russ Brown) of Fairfax, and Myrna Kary (Jim) of Bullhead City, Arizona; nine grandchildren Misty Davis, Melanie Mertz, Brady Blom, Monica Jons, Donnie Taylor, Charles Taylor, Molly Sybesma, Ben Kary, and Matt Kary; 23 great-grandchildren; six great-great-grandchildren; one brother Roscoe Gerdon of San Manuel, Arizona; one brother-in-law Bob Ufen of Colton; and a host of other relatives and friends.

Charlotte was preceded in death by her husband Willis in 2015; her parents; a grandson Jeremiah Kary; a son-in-law Donald Taylor; and three sisters Myrna Gerdon in infancy, Mardell Ufen, and LaVonne (Milton) Foreman.

Funeral services will be held 11:00 a.m. Saturday, November 10, at the United Church in Philip, with Pastor Kathy Chesney officiating.

Graveside services will be held 12:30 p.m. Saturday, at the Belvidere Cemetery in Belvidere, South Dakota.

A luncheon and reception will follow the graveside services at the Belvidere Community Hall.
Service Details
FUNERAL SERVICE
Saturday, November 10, 2018 - 11:00 a.m.
United Church
Philip, South Dakota

CLERGY
Pastor Kathy Chesney

MUSIC
Marilyn Millage - Pianist
Congregational Hymns
"The Old Rugged Cross"
"How Great Thou Art"

USHERS
Rick Dennis - Mike Blom

PALLBEARERS
Donnie Taylor - Tristen Kary - Keagan Sterk
Chase Jons - Terrel Hieb - Parker Blom - Tobie Hieb
Michael Davis - Brayden Blom - Charlie Taylor

HONORARY PALLBEARERS
All Charlotte's Great-Granddaughters

INTERMENT
Saturday, November 10, 2018 - 12:30 p.m.
Belvidere Cemetery
Belvidere, South Dakota
Guest Book
I'm so sorry for your loss. What has helped me in times like these is Revelation 21:4 which says, "And he will wipe out every tear from their eyes, and death will be no more, neither will mourning nor outcry nor pain be anymore. The former things have passed away." I hope this will comfort you as it has me. If you need anyone to talk to, feel free to reach out to me.
~ Grant (11/12/2018)
May the God of all comfort be with you at this difficult time. 2 Cor 1:3,4
https://tv.jw.org/#en/mediaitems/MinistryFeatured/pub-imv_4_VIDEO
~ Linda (11/9/2018)
Lloyd, Myrna & Colleen .. sorry to hear of Charlotte's passing, but know she is off to a much happier place:) I always enjoyed helping her and Willis at the bank in Philip. I won't be able to attend services on Saturday, but will be thinking of you all.
~ Val Schulz Philip, SD (11/7/2018)
Midland, TX
~ Connie Lee 1900 E Golf Course Rd. Apt 503 (11/10/2018)
To all your mom was a one of a kind just like your dad. I loved working with your mom at the hospital she was definitely an asset to our town. Prayers and comfort for you all in this difficult time they will be watching over you all ly Bonnie
~ Bonnie Moses Nebraska (11/8/2018)
Colleen & Families, Sorry to hear about Charlotte; She was such a Caring Lady. The community of Philip, will miss her as do they miss Your Dad. You can be very Proud of your Parents and know they have been Reunited in Heaven. You All are in our Thoughts & Prayers. Sincerely, Kathy & Jerry
~ Jerry & Kathy S. Noteboom Yuma, Az (11/8/2018)
Lloyd ,Colleen, & Myrna, So sorry to hear of your Mother's passing. We worked together at the nursing home. She was a great lady and made work so much fun. Will cherish all the memories of your parents and their Friendship. Our thoughts and Prayers to you all.
~ Ralph & Cathy Fiedler Sturgis, S.D. (11/8/2018)
Myrna, Lloyd and Colleen, Your mom has been on my mind for the last couple of weeks. I am so sorry to hear that she has passed but know she is with your dad. I have very fond memories of both of them. May you find peace and comfort knowing they are together again and watching over you. Sending my love to you all.
~ JAnice Heigh Rapid City, SD (11/8/2018)
To Charlotte's family: I remember your mom (and dad) fondly; they were our neighbors in Philip (1977-1981). Your mom was a sweetheart who treated us like her family. My you find comfort in all the wonderful memories of her.
~ Deb (Nesheim) Alexander Minnesota (11/8/2018)
Lloyd, Colleen and Myrna, I was sorry to read of your mother's passing . Jerry and I always thought the world of your mom and dad Willis. May the Lord bless all of the family and remember all the good times your family had with Charlotte and Willis. God Bless.
~ Jo Anne Stilwell Kadoka, SD (11/12/2018)
I remember Charlotte and thank her for her friendship with my mom, Marjorie Nesheim. I hope that all your happy memories of her give you comfort.
~ Jan Nesheim Charbonneau Spokane, WA (11/8/2018)
Flowers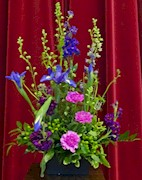 Your GSS Family
Family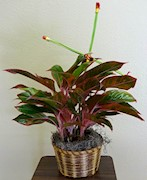 Wade and Heidi Bentz and Cory and Amy Bailey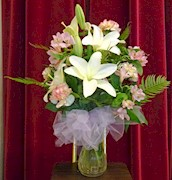 The Arizona Kimball Families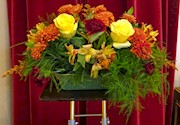 The Pete Blom Family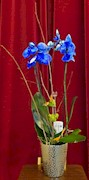 Rod and Kim Forman and Family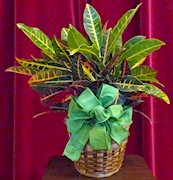 Family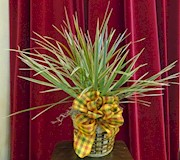 Family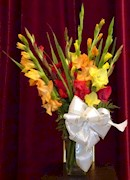 Family
Family