John "Jack" Lee

of Rapid City, South Dakota, died on Sunday, June 3, 2018
at the Bella Vista Care and Rehabilitation Center in Rapid City at the age of 89
John E. Lee, better known as "Jack" by his family and friends, was born November 27th, 1928, in Aberdeen, South Dakota, to John and Florence (Jenkins) Lee. He graduated from Aberdeen Central High School and then attended Wesleyan College in South Dakota for two years.

His careers included ranching in the White River, South Dakota area. He also owned and operated the Lariet Market in White River for over 30 years, and sold Thrivent Financial Insurance in Rapid City.

Jack was a member of South Canyon Lutheran Church for the past 33 years and the Rapid City Downtown Lion's Club. He also enjoyed country music and reading.

For the last three years he was in the care of Bella Vista Nursing Home.

Survivors include: his wife, Jeanette Lee of Rapid City, his son Robert "Bob" Lee of White River, his daughter Sandra Assman of White River, step-children: Vivian Sonder, Patricia Tyus, Jennifer Kaiser, and David M. Geisler; 18 grandchildren and great-grandchildren as well as a host of other relatives and friends.

He was preceded in death by his parents John and Florence, two sisters, Sara Ernst of Cedar Rapids, Iowa, and Martha Hovrud of Oklahoma, and his brother William Lee of Davenport, Iowa.

Memorial services will be held at 11:00 A.M. on Monday, June 11, 2018 at the South Canyon Lutheran Church in Rapid City with Pastor Linda Black officiating.

Interment with military honors will be held at 2:00 p.m. at Black Hills National Cemetery near Sturgis.
Service Details
MEMORIAL SERVICE
Monday, June 11, 2018 - 11:00 a.m.
South Canyon Lutheran Church
Rapid City, South Dakota

OFFICIANT
Linda Black

MUSIC
Dr. Chuck Canaan - Organist
Laurel French - Vocalist
"One Day At a Time Sweet Jesus"
"Amazing Grace"
Congregational Hymn
"Ode to Joy"

GUEST BOOK ATTENDANT
Suzanne Brost

USHERS
Don Ludens - Larry Rivinius - Dennise Rivinius

HONORARY PALLBEARERS
All of Jack's grandsons and great-grandsons

INTERMENT WITH MILITARY HONORS
Monday, June 11, 2018 - 2:00 p.m.
Black Hills National Cemetery
Sturgis, South Dakota
Guest Book
Jean, I am sorry to hear of Jack's passing. Know that you are in our thoughts and prayers.
~ Tom Berg Rapid City, SD (6/7/2018)
Sorry for your loss. Saying a prayer.
~ Kimberly Pinnix 817 Rena Place (6/5/2018)
I am so very sorry for your loss. Please find comfort in God's sure promise of a resurrection as set forth in the Bible. (Acts 24:15; John 5:28,29) Those who are raised to life will have the prospect of never again being subject to misery, sickness, or death. (Revelation 21:4) I hope that reflecting on these thoughts will give you some relief during this difficult time.
~ K (6/9/2018)
Jack was such a wonderful man, leo so enjoyed getting together a few years ago. Our faith offers hop and comfort as we care for others. God calls us to remember him in the midst of our and their difficulty and you did that so well Jean. Blessings to you all. Leo & Bernie boland
~ Bernie Boland Rapid city (6/9/2018)
I'm thankful he had a peaceful passing, and appreciate the care he received at Bella Vista Nursing Home in Rapid City.
~ Jennifer Kaiser Senoia, Georgia (6/6/2018)
Thanks for serving
~ A VETERAN (6/6/2018)
Been along time since I have seen Mr Lee but do remember him in the store and the locker plant. Sending Prayers for the Family.
~ Bonnie [Bouman} Madsen Kadoka S.D. (6/5/2018)
Flowers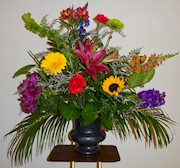 Cathie and Johnnie Littles and Johanna, Mark and the boys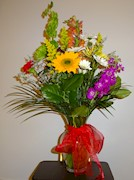 The Musegades Family - Kent, Meredith, and Ale