Ardene O'Connell

of Dickinson, North Dakota, formerly of Philip, South Dakota, died on Saturday, January 8, 2022
in North Dakota at the age of 94
Ardene Marie Wheeler was born November 7, 1927, on a ranch southeast of Philip, South Dakota, to Arthur and Marie (Valet) Wheeler. She attended country school at Brady School until 7th grade and graduated from Philip High School in 1945. She worked for Northwestern Bell Telephone. Ardene attended Nettleton Commercial College in Sioux Falls. She worked at Klawiter School Supply and at Empire Equipment Company in Sioux Falls until 1950, and then she worked for Jacobs & Goode in Rapid City, until 1958.

Ardene was united in marriage to Jiggs O'Connell on Nov 15, 1958 in Deadwood, South Dakota. To this union two children were born. They made their home on a ranch in the North Dakota Badlands until they retired to Dickinson in 1994.

While on the ranch, Ardene was known for her donuts and coffee. Later, she was known for her dedication to Jiggs' care during his Alzheimer journey. Ardene was active in her churches: the Belfield Lutheran Church and later St. John's Lutheran Church in Dickinson. She volunteered at St. Luke's Nursing Home fixing hair. Ardene was a charter member of the West River Community Center. She was an avid reader with a keen mind, quick wit, and innate wisdom. She enjoyed her travels within the US and abroad.

Grateful for having shared her life are daughter Kathy O'Connell, son Scott O'Connell, honorary daughter Gwen Davis, and numerous nieces, nephews, and friends.

In addition to her husband Jiggs, Ardene was preceded in death by her parents Art and Marie Wheeler, and all her siblings, Richard Wheeler, Durward "Dud" Wheeler, Lillian Phillips, and George Wheeler.

In lieu of flowers the family suggests memorials be made to the charity of your choice.

Memorial services will be 11:00 am, Friday, January 14, 2022 at St. John Lutheran Church in Dickinson with Pastor Lisa Lewton officiating. Ardene's service in Dickinson will be livestreamed and can be watched at stevensonfuneralhome.com under Ardene's obituary.

Memorial services will be held 11:00 a.m. Tuesday, January 18, at First Lutheran Church in Philip, South Dakota with Pastor Kathy Chesney officiating. Burial will follow at the Masonic Cemetery. Ardene's services in Philip will be livestreamed and can be viewed on this page.
Service Details
MEMORIAL SERVICE
Tuesday, January 18, 2022 - 11:00 a.m.
First Lutheran Church
Philip, South Dakota

CLERGY
Pastor Kathy Chesney

INTERMENT
Masonic Cemetery
Philip, South Dakota
Guest Book
Our thoughts and prayers are with Scott, Kathy and family.
~ Shane Colorado (1/18/2022)
Kathy & Scott ~ So very sorry to hear about your amazing Mom. She was the ultimate 'ranch wife" and made everyone feel at home. You're in my prayers and I will see you in Philip ~
~ Darci Rapid City, SD (1/12/2022)
So sorry to hear of Ardene's passing. My dad, Vint Williams, grew up as neighbors and graduated high school with her. He always spoke of her with high regard. God bless and keep you.
~ Lyndy Ireland Philip, SD (1/19/2022)
Flowers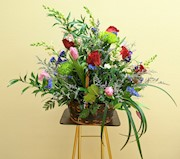 The Justin Wheeler Family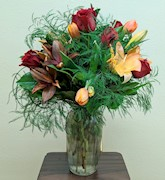 Pat and Rosemary Trask
Deb and Merlin