Lillian Horton

of Wall, South Dakota, died on Saturday, July 7, 2018
at the Hans P. Peterson Memorial Hospital in Philip at the age of 99
Lillian E. Bagley was born October 27, 1918 at Hurley, South Dakota, the daughter of Addie and Vera (Radley) Bagley. She grew up in the Hurley area and attended rural school in that community prior to graduating from Hurley High School in 1935. She graduated from Eastern State Normal in Madison, South Dakota, with a teaching certificate in 1937. She taught in eastern South Dakota for five years prior to moving to Wall in 1942 where she taught school.

Lillian was united in marriage to Virgil Horton on June 6, 1945 at Sioux City, Iowa. They made their home on the Horton Ranch south of Quinn all their married life. She continued to teach in Wall, and during the summer months she attended Black Hills Teacher College where she received her Bachelors Degree. She retired from teaching in the spring of 1973.

Her husband Virgil preceded her in death on June 13, 2000. She continued to reside at the ranch, and later spent the winters at Prairie Village and the summers at the ranch. In 2013 she moved to the Philip Nursing Home where she has since resided.

Lillian was a member of the Wall Methodist Church where she served as Treasurer. She was a member of the United Methodist Women, served as treasurer of the Flatt Butte Township Board for over 50 years, and served as treasurer of the Pleasant Valley School District.

Survivors include a son Rick Horton and his wife Nancy of Wall; two daughters Barbara Fuller and her husband Terry of Rapid City, and Kay Dahlquist and her husband Terry of Sioux City, Iowa; nine grandchildren and 12 great-grandchildren; Kim (Dennis) Shannon and their sons Max and Alex; Rodd (Andrea) Fuller and their sons Colin, Ian, and Dylan; Craig (Cathy) Fuller and their sons Jack and Will; Jennifer Dahlquist; Ryan (Marisa) Dahlquist; Kristin (Adam) Molstad and their daughters Sylvie and Annabel; Janelle (Josh) Karau and their son Liam; Brian Horton; Mark (Kelsey) Horton and their children Charlotte and Nolan; one brother Keith Bagley and his wife Diane of Wall and Hurley; and a niece Lynette Almond and her husband Dale of Hurley and their daughter Gabrielle; and a host of other relatives and friends.

In addition to her husband Virgil, Lillian was preceded in death by her parents.

Visitation will be held 5-7 p.m. on Thursday, July 12, at the Rush Funeral Chapel in Wall.

Funeral services will be held 10:00 a.m. Friday, July 13, at the Methodist Church in Wall, with Pastor Russell Masartis officiating.

Interment will be at the Wall Cemetery.

Service Details
VISITATION
Thursday, July 12, 2018 - 5-7 p.m.
Rush Funeral Chapel
Wall, South Dakota

FUNERAL SERVICE
Friday, July 13, 2018 - 10:00 a.m.
United Methodist Church
Wall, South Dakota

CLERGY
Pastor Russell Masartis

MUSIC
Carol Hahn - Pianist
Congregational Hymns
"When Morning Gilds the Skies" - #185
"Love Divine, All Love Excelling" - #384
"Amazing Grace" - #378

USHERS
Wayne Davis - Jerry Johannesen

PALLBEARERS
All of Lillian's Grandchildren

HONORARY PALLBEARERS
All Relatives and Friends in Attendance

INTERMENT
Wall Cemetery
Wall, South Dakota
Guest Book
Sorry for your loss. She was my 4th grade teacher and a wonderful person.
~ Susie Cuppy Mitchell (7/10/2018)
Barb, Kay & Rick, I was so sorry to read of the passing of your Mom. I enjoyed her as a teacher. It didn't matter how many years since she'd seen me, she always said hi. May the memories you have be a blessing to you all. Love & prayers.
~ Kitty Mihills Monke Regent, ND (7/14/2018)
My memories of Lillian go back to the programs at the Big Foote Elementary school. She was blessed with the ability to play the piano and we needed help with our yearly Christmas programs. Even though she was a VERY busy wife, mother, teacher, she found the time to accompany us! What a sweet spirit! Bless you as say goodbye and begin to ponder the time you will meet again!
~ Karen Warner Moore Missoula, MT (7/11/2018)
I am deeply sorry for your family's loss. The God of all comfort will help you to cope during this difficult time. (2 Corinthians 1:4)
~ Christie C Michigan (7/11/2018)
Horton Family, My deepest sympathy in the loss of your mother . I am very happy we got the opportunity to meet her. She was a very dear sweet lady.
~ Barbara Karau Lewisville, Minnesota (7/11/2018)
Kristin and Janelle,
My Deepest Sympathy. Keeping all of you in my thoughts and prayers. May the Lord Be With You now and always.
~ Fawna (Geigle) Goff Sturgis, SD (7/11/2018)
Rick and family, I'm sorry to hear of Lillian's passing. Its hard to lose them even though they have had good long lives. Know I'm thinking of you and sending condolences.
~ Cindy Kruse Henderson, NV (7/9/2018)
Barbara, Kay, and Rick, sorry to hear of the passing of your mother. You all and your families are in my thoughts and prayers.

~ Andrew Eisenbraun Rapid City, SD. (7/9/2018)
Horton Family, Sorry to hear of your mothers passing. I am sure her teaching ethics will be remembered by many a student that she taught. (a little humor) My condolences to your families Larry Gravatt
~ Larry Gravatt Elm Springs, So. Dak. (7/12/2018)
Horton Family Sorry to hear of your mother's death. It was a privilege and an honor to have known her over the past years. Also as very fine teacher here at Wall. Rest in peace Mrs. Horton. Van
~ Van & Cathy Simpfenderfer Wall, SD (7/9/2018)
Dear Family
What an honor and blessing it has been for me to get to know Lillian the past several months. She was such a joy in my days! She always loved to visit and she truly cared. She will be dearly missed.
May you feel God's love surround you in your time off loss.
Blessings to you all
David, Michelle, Kelcey, Katie and Lukas Butler
~ Michelle Philip (7/9/2018)
I smile when thinking of this awesome woman! She was a big influence for me. Strict yet understanding. A tight fist yet a gentle hand and a stern look when necessary and a sincere smile as a reward.
You'll never be forgotten and I thank you.
~ Norm (Lynn) Klingbile Rio Communities, New Mexico (7/13/2018)
Dear Horton Family,
Mrs. Horton contributed much to my (and countless others) education at a young age and that provided a lifetime of value. Many thanks to her, and to her family, my condolences.
~ Jim Estes Saint Paul, MN (7/13/2018)
Flowers
Harmony Presbyterian Church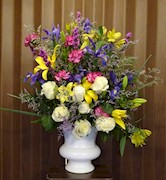 Dana & Kay Dahlquist Mark & Lori Dahlquist Earl & Diane Williams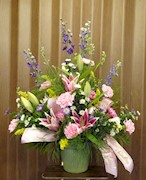 "Sister" "Aunt"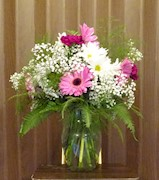 Connie Willuweit Kyle and Family
Dakota Country Pharmacy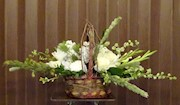 Don Horton Families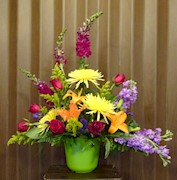 Candie, Chris, Paige and Emma Lee Lynsay and Matt Johnson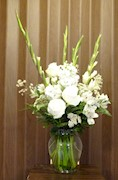 Virgil & Myra Williams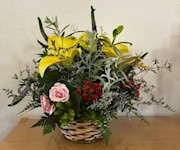 Richard Mauer and Jean Hunter