Mildred Radway

of Philip, South Dakota, died on Wednesday, March 7, 2018
at the Philip Nursing Home at the age of 91
Mildred J. Radway was born on her parent's farm-ranch in the Grindstone area northwest of Philip on May 15, 1926. She was the second of six children born to Joe and Cora (Hovey) Thorson with Mrs. Eggen as their mid-wife.

Mildred attended Alfalfa Valley rural school for eight years and graduated from Philip High School in 1944.

She attended Black Hills Teacher's College for two summers and after graduating taught rural school for three years.

Mildred was united in marriage to Robert Radway on October 5, 1946, at the First Lutheran Church in Philip. After getting married they resided on Grandpa Jody and Grandma Mary Gitting's farm for five years. They then purchased a farm west of Milesville in 1951 which they continued to operate until retiring in 1989. In 1989, they moved into Philip where Mildred has since resided.

Her survivors include three sons, Arlie (Gretchen) Radway of Plainview, Glen (Jackie) Radway of Milesville, and Bruce (Raelynn) Radway of Fairbanks, Alaska; one daughter, Gloria Jelinek-Guzman of Denver, Colorado; 16 grandchildren and 23 great-grandchildren; one brother, Corwin "Corky" (Zoni) Thorson of Philip; one sister, Janice (Bart) Parsons of Milesville; special friend Elfrieda Noteboom of Philip; and a host of other relatives and friends.

She is preceded in death by her husband, Robert on January 4, 1996; a daughter Roxanne Schaefer on October 16, 2003; her parents; a grandson Frank Jelinek; two brothers, Leonard and Lauren Thorson; and one sister, Maxine O'Reilly.

A visitation will be held from 5-7 p.m. on Sunday, March 11, at the Rush Funeral Home in Philip.

Funeral services will be held at 11:00 a.m. on Monday, March 12, at the American Legion Hall in Philip with Pastor Cindy Bisser officiating.

Interment will be at the Masonic Cemetery in Philip.
Service Details
VISITATION
Sunday, March 11, 2018 - 5-7 p.m.
Rush Funeral Home
Philip, South Dakota

FUNERAL SERVICES
Monday, March 12, 2018 - 11:00 a.m.
American Legion Hall
Philip, South Dakota
CLERGY
Pastor Cindy Bisser
MUSIC
Marilyn Millage - Pianist
Marcus Martinez - Vocalist
"Amazing Grace"
USHERS
Bob Thorson - Tom Radway
PALLBEARERS
All of Mildred's Grandchildren
HONORARY PALLBEARERS
All Relatives and Friends in Attendance
INTERMENT
Masonic Cemetery
Philip, South Dakota
Guest Book
It would be hard to find kinder people than Bob and Mildred Radway. Never a cross word crossed their lips. We're sorry for the loss of this lovely lady. Prayers to all her family.
~ Jason and Vonda Hamill and family Milesville (3/9/2018)
Mildred was such a sweet lady, always had a smile. We enjoyed seeing her at the nursing home when we went to dance, she would tell us how she loved to dance. She would say "keep on dancing" and tap her feet and clap her hands. Hold onto all the memories.
~ Les & Joann Pearson Philip, SD (3/9/2018)
Remember the good times and always keep them in your heart.
~ Jim and Vonnie O'Dea Howes,SDi (3/8/2018)
Radway Family
Mildred was such a loving and kind lady. When we first moved to Philip, we lived across the street from her. Our girls enjoyed spending time with her. They were to little to cross the street alone but would watch for Mildred and she'd yell for them to run across the street. Mildred and Al Carr enjoyed taking Kelcey to the Senior Center and held bragging rights for teaching her to gamble! Mildred always had that bright smile and a loving hug for all.
I have enjoyed our visits the past few months at work. She was a true gem!
She is in Heaven resting in the arms of Jesus so comfortably and peacefully.
God's blessings to you all
David, Michelle, Kelcey, Katie and Lukas Butler
~ Michelle Butler Philip SD (3/9/2018)
So many fond memories of our families growing up: Holiday dinners, churning butter, the town mouse and the country mouse, strawberries in her garden, the squeaky door, chickens (Todd and Bruce), and many more. Hold those fond memories of this dear, dear lady close to your heart! I just loved her! I hope her and Bob are having a ball with mom and dad! Love to you all.
~ Stacy Dole Black Hawk (3/8/2018)
I am sorry for your loss. I will keep you in my thoughts and prayers. If she was anything like my Aunt Mick, she was a special lady then.
~ Janet Penticoff Pierre (3/21/2018)
Sympathy to Mildred's family. I haven't seen her for many years but remember her and her Family as good people.
~ Donna Craven Rapid City SD (3/11/2018)
Our deepest sympathy to Mildred's family. What gentle and kind person Mildred was, always thoughtful. Our prayers to all of you.

~ Joyce and Ed Buchholz Belle Fourche, SD (3/9/2018)
So sorry to hear of your Mother's passing. She was a special lady ,with a beautiful smile. Our prayers and thoughts.
~ Ralph & Cathy Fiedler Sturgis, S.D. (3/9/2018)
xoUK3J http://www.LnAJ7K8QSpfMO2wQ8gO.com
~ Judix UiqKbtwyYLiRBSNY (8/6/2018)
Mildred was one of the sweetest people I have ever known. Sending the family my deepest sympathy and prayers
~ Julie Elshere Furchner Ft Pierre, SD (3/10/2018)
To the family sorry for your loss. May God comfort yoh at this difficult time. Psalms 34:18
~ SO Midlothian Il (3/19/2018)
I first remember Mildred and Bob being at wrestling tournaments, they were the most wonderful people ever. As I got to know Mildred over the years, I always thought she was the sweetest lady ever. I was so glad that she was chosen to be mom's roommate at the nursing home, she was always so sweet to her. There is a special place in Heaven for Mildred, her and Bob are reunited once more. RIP dear lady.
~ Floren & Debbie Falzone Philip, SD (3/9/2018)
My sweet Aunt Mildred was truly a shining example of kindness and gentleness. She lived by the Golden Rule and I'll be forever grateful for the example she set. I admired her gentle faith. Our family is a circle of love and she will be forever a part of what made it strong. ❤️
~ Crystal Thorson Philip (3/11/2018)
Who didn't love Bob & Mildred? I hope there is poppy seed cake at the dinner. May her sweet soul Rest In Peace.
~ Kara Gittings Moriarty Anchorage, AK (3/10/2018)
Flowers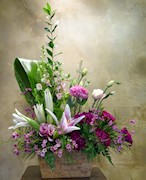 Sandy, Tom, Todd, Stacy, Mark and Families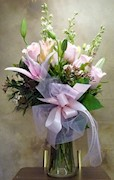 Family "Great Grandma"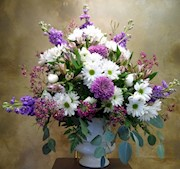 Mick and Leanne Kennedy
Bonnie Collins and Family
The Peggy Hauk Family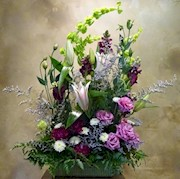 Doug & Nancy Thorson and Family
Phillis, Cork & Zoni, Bart & Janice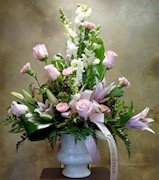 Family "Grandma"
Pekron "Kids" Nancy & Rick, Steve & Nina, Beth, Karen & Jerry, Theresa, Joe, and Julie