Harold "John" Eckert

of Kadoka, South Dakota, died on Tuesday, January 9, 2018
at the Wanblee Health Care Center in Wanblee at the age of 68
Harold Eckert, Jr., better known as "John" to his family and friends was born November 16, 1949, at Midland, South Dakota, to Harold and Anna (Prochaska) Eckert.

John attended grade school in Belvidere and high school in Midland, graduating in 1968.

Driving truck was John's passion. He started out at a very young age driving for the family business, Eckert Trucking. John was well known up and down the highway by his CB radio handle, "Daddy Rabbit". His younger brother, Bob, also drove for the family business.

The Eckert Trucking business sold in the early 1980s, but John continued driving truck, working for Larry Byrd for several years before taking employment with the South Dakota Department of Transportation, which continued for the next 15 years. Meanwhile, he was the part-time transport driver for Grant Patterson at Discount Fuel. John was a faithful employee at Kadoka Oil, driving the propane truck for Mark and Tammy Carlson until the time of his passing. He totaled 31 years employment between Patterson and Carlson.

John enjoyed getting in on a game of poker and he enjoyed fishing and hunting.

Survivors include two daughters Lori (Aaron) Iversen of Murdo and Bobbi Jo (Ben Gaylord) Eckert of Irving, Texas; two grandchildren, Carter and Taya Iversen of Murdo; one brother, Bob Eckert of Kadoka; one nephew Rob (Peggy) Eckert of Kadoka; and a host of other relatives and friends.

John was preceded in death by his parents and a sister-in-law, Jill Eckert.

A visitation will be held from 10 a.m. - 12 p.m. on Monday, January 15, at the Belvidere Community Hall in Belvidere.

Private family graveside services will be held at the Belvidere Cemetery.
Service Details
VISITATION
10:00 a.m. - 12:00 p.m.
Monday, January 15, 2018
Belvidere Community Hall
Belvidere, South Dakota

CLERGY
Pastor Gary McCubbin

PRIVATE FAMILY INTERMENT
Belvidere Cemetery
Belvidere, South Dakota
Guest Book
I was so sad to hear of the passing of our cousin John. May he RIP in the loving arms of Our Lord Jesus Christ His picture reminds me Uncle Johnny Eckert.
~ JoAnn Portanova Catalano Tehachapi, CA (1/13/2018)
~ Larry and Karen Buxcel Hutchinson (1/10/2018)
RIP John, I will never forget hunting with you and Bob, good times
~ Jerry Sanftner Rapid City (1/11/2018)
sorry to here of the lost of John he will be missed I enjoyed visiting with him when he brought me propain
~ larry swift box303 (1/11/2018)
I can remember the summer I spent in South Dakota, spending a week or so with different Aunts, Uncles and cousins. Some of my fondest memories are the ones with John and Bob on the farm. I miss all of those good old days when life was much simpler. Rest in peace cousin.
~ Michael Portanova Tehachapi, California (1/14/2018)
Thinking of all of and sending pp
Thinking of all of you and sending prayers. RIP John

~ Merle ans (1/11/2018)
We were so saddened to hear this news. It is so hard to lose a parent. Please know that we have been thinking about you girls . our prayers are with you Lori and Bobbie Jo
~ Robert and Lois Porch Philip, SD (1/12/2018)
My sympathy
~ Lois Eckert Quatier Yankton, SD (1/12/2018)
Our sympathies to John's family. May he rest in peace and may God comfort you in your sorrow.
~ Barbara and Morris Jones Midland, SD (1/14/2018)
I was so sorry to hear about John. Have some great memories of "Pink Cloud" from our high school years. He will be missed. My prayers to his family.
~ Mary Jo Jones Midland SD (1/12/2018)
My deepest sympathy to Johns family!
~ Lynne Jorgensen Sioux falls (1/14/2018)
We are so sorry to hear about John. He was a very nice guy who enjoyed life.
~ Kathy Kusick Pillen Hermosa South Dakota (1/15/2018)
I would like to offer my sincerest condolences during this difficult time, the loss of a loved one can be a painful experience. I hope you can find a measure of comfort in God's Word the Bible. For example, in Revelation 21:4 it mentions a time that is coming when death will be no more and in John 5:28,29 it says how all those in the memorial tomb will come out. So we will have the opportunity to see our loved ones again. For more information about this topic and much more please visit JW. org.
~ Elaine (1/11/2018)
Sorry to hear of John's passing. We always enjoyed visiting with him when he brought propane. Will miss him.
~ Oliver & Gayle Carson Quinn,SD (1/11/2018)
So very sorry for your loss. John was a good guy. You are I. My thoughts and prayers.
~ Kathy Larson LaDue Anamosa, IA (1/13/2018)
Flowers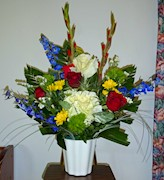 Rural Health Care, Inc.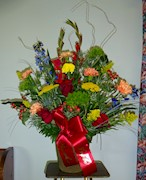 Family - "Brother" "Uncle"