Gay Spinsby

of Midland, South Dakota, died on Friday, May 26, 2023
at Hans P. Peterson Memorial Hospital in Philip at the age of 73
Gay Lee Wellman was born August 11, 1949, in Murdo, South Dakota, the second of four children born to Noel and Josephine (Sturdevant) Wellman. She grew up on a farm near Okaton, and attended school in Murdo, graduating in 1968. After graduation, she attended Green's Beauty School in Rapid City. After her schooling, she owned and operated her own salon in Midland.

She was united in marriage to Russell Spinsby on October 23, 1971, in Midland. They made their home on the ranch 12 miles south of Midland all their married life. She later worked in the Post office in Belvidere and in Midland. For a time she also worked at the Belvidere Store.

She enjoyed baking, doing puzzles, and reading her romance novels. Christmas time was her favorite time of the year, looking forward to the family getting together.

Survivors include her husband Russell; three children Kelly Van Handel and her husband Larry of New London, Wisconsin, Casey Spinsby and his wife Janette of Medanales, New Mexico, and Marty Spinsby of Mitchell; six grandchildren Mollie and Hattie Berndt, Xavier and Yesenia Spinsby, and Charles and Aria Spinsby; two sisters Sandra Wellman of Belle Fourche, and Susan Fosheim and her husband Brett of Sturgis; and a host of other relatives and friends.

Gay was preceded in death by her parents; and a brother David Wellman.

Visitation will be held 5-7 p.m. (MDT) on Wednesday, May 31, at the Rush Funeral Home in Philip, with a prayer service at 6:30 p.m.

Graveside services will be held 10:00 a.m. (CDT) Thursday, June 1, at St. Peters Lutheran Cemetery south of Midland, with Pastor Gregory Hinners officiating.
Service Details
VISITATION
Wednesday, May 31, 2023 -
5-7 p.m. with a Prayer Service at 6:30 p.m.
Rush Funeral Home
Philip, South Dakota

GRAVESIDE SERVICE
Thursday, June 1, 2023 - 10:00 a.m. CDT
St. Peter Lutheran Cemetery
Rural Midland, South Dakota

CLERGY
Pastor Kathy Chesney - Pastor Gregory Hinners

HONORARY PALLBEARERS
All Relatives and Friends in Attendance

INTERMENT
St. Peters Lutheran Cemetery
Midland, South Dakota
Guest Book
Russ and Family - we are so sorry to hear of Gay's passing. We know you will have wonderful memories to help you through this difficult time. We will be thinking and praying for you.
~ Bryan and Janet Freeman New Market, MN (6/13/2023)
Flowers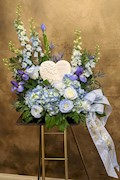 Family - "Aunt" "Great Aunt"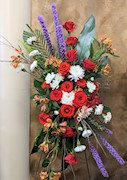 Family - "Mom"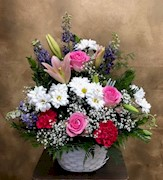 Steve, Julie, Carson and Dane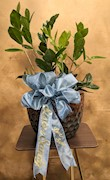 Family - "Sister"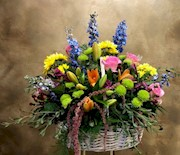 The Howland Family in Waterloo, Illinois